ESCAPADES CANYONING est une société créée il y a dix ans par un guide de canyoning amoureux de l'île. Aujourd'hui, nous sommes plusieurs moniteurs associés en CORSE. Les activités que nous proposons sont celles qui correspondent à notre passion et à nos compétences :
– du CANYONING à la demi-journée.
– des journées d'initiation ou de perfectionnement.
– des week-ends ou des séjours avec hébergement.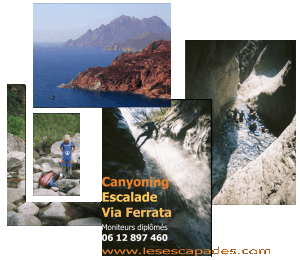 Réservation et renseignements
06 12 89 74 60
0033-6 12 897 460
AWAY Canyoning is a company created ten years ago by a canyoning guide in love with the island. Today we are involved in CORSICA multiple monitors. The activities we offer are those that correspond to our passion and our expertise:
– The canyoning in half a day.
– Days of initiation or development.
– Weekends or stays with lodging.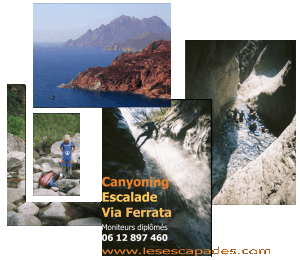 Reservations and information
06 12 874 60
0033-6 12 897 460